.day commemorates and celebrates.
Available now! Starting at
‪HK$124.92*‬/yr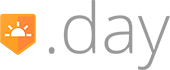 The domain to mark a moment.
.day is the perfect domain to commemorate events, memories, or days you want celebrated. A .day domain can attract attention to your website that calls out local events or celebrates days that can make a difference. .day is a way for you to call out those memories in a blog or site. Wedding photographer? You can benefit from .day to market your services for the day the couple will want to remember.
Use .day for memorable events.
Even if you have an evite website with an audio twist, .day is a great way to create interest in days that mean something whether it's birthdays or anniversaries. .day is for the days that are important.